The first week of February is almost over, which means its time for another Humble Choice. Let;'s take a look at this latest bundle of games!
Outward.
OK, the first game for February is Outward, an open world survival RPG set in a fantasy world. In Outward, you are an ordinary adventurer. Not some prophesied hero. Not some god like being. Just an ordinary person who has set out to explore the world and have an adventure. The world of Aurai is a brutal place, in which you must carefully think through what you are doing but don't worry, you can play Outward with a friend, which maybe the best way to survive this world. I already own Outwardbut never got around to playing it, so I'm going to give this key to my boyfriend, so we can go on an adventure together.
Valkyria Chronicles 4 Complete Edition.
Sticking with the RPG genre, the next game is a turn based strategy RPG called Valkyria Chronicles 4. The game is set during a war in which you take control of Squad E as they try and survive on the battlefield. I love the unique art style and WWII-esque setting. I have heard some great things about this series and it looks like Valkyria Chronicles 4 would be a good starting poit in getting into this series. Another great thing is that this version of the game is the complete edition, which contains all of the DLC as well!
Endless Space 2 – Digital Deluxe Edition.
Up next is another strategy game, this time set in space. In Endless Space 2, you are in charge of one of eight civilisations whose goal is to dominant the universe that was once colonised by mysterious beings, known as the Endless. Like with most strategy games, you must balance your time and resources between researching technologies, establishing colonies and exploring the universe. Endless Space 2 has been well reviewed on Steam which suggests that it is a solid strategy experience. On top of receiving the base game, the deluxe edition also contains the soundtrack and some cosmetic skins.
Moving Out.
This next game is one that has been sitting on my Steam Wishlist! Moving Outis a game in which you take on the role of a removals person and must help the people of Packmore move their belongings. Sounds easy, right? Well, Moving Out has some rather unique locations for you to navigate but don't worry, you can always recruit some of your friends to help in couch co-op mode. Moving Out gives me Overcooked! vibes, which is what piqued my interest in the first place. If you are looking for a new co-op game with chaotic vibes, then I suggest checking out Moving Out.
Trine 4: The Nightmare Prince.
Sticking games that can be played co-operatively, the next game in the bundle is Trine 4: The Nightmare Prince. Its been a while since I've played a Trine game. I remember, a few years ago, playing one of the previous games as the wizard and infuriating one of my friends; as I had discovered that the box spell I had meant I could hold falling platformers up and keep doors from closing. So, I won't be passing up on the opportunity to revisit the fairytale like world of Trine once more.
The Wild Eight.
We're halfway through the bundle and the next game is another co-op game! I'm starting to see a pattern for this month's gaming picks… So, in The Wild Eight, you take on the role of one of eight survivors of a plane crash. Unfortunately, you didn;t end up on a mysterious tropical island, instead you find yourself in a frozen wilderness far from help. It is down to your to explore and survive as you try to also find answers as to what happened. Fortunately, you don't have to do this alone, as you can play with up to seven other players. Although I'm not great at survival games, the idea of playing this co-op with friends does interest me, so I'll be picking The Wild Eight as one of my games.
Train Station Renovation.
Moving away from the co-op games, the next game is called Train Station Renovation. In the game, you are part of a company that specialises in restoring railway stations, that have been neglected, by cleaning them and redecorating. Train Station Renovation reminds me a lot of House Flipper, another restoration simulator that I feel in love with last year. These sort of games are great to play when you just want to relax and not play something too challenging.
Valfaris.
This next game is far from relaxing. Valfaris is a heavy metal themed action games in which you play as Therion, a resident of the fortress Valfaris. After previosuly having mysteriously vanished, the fortress reoppaers near a dying sun, slowly being consumed by darkness. It is down to you and Therion to uncover the truth about what happened to Therion's home. I'll be honest, I'm not great at these sort of games but the premise behind Valfaris intrigues me, so I'll be giving this game a go, at some point.
Werewolf: The Apocalypse – Heart of the Forest.
And here is another game that's been sitting on my Steam wishlist! Werewolf: The Apocalypse – Heart of the Forest is a visual novel, with some RPG mechanics, in which you follow Maia, a young woman exploring her family history. Her travels have taken her to Poland, where the truth about some family mysteries await her. I onl yrecently got into visual novels towards the end of 2020, when I finished Code: Realize ~ Guardians of Rebirth, so a visual novel set in an RPG universe that I love is definitely one I'm going to try!
Lovecraft's Untold Stories.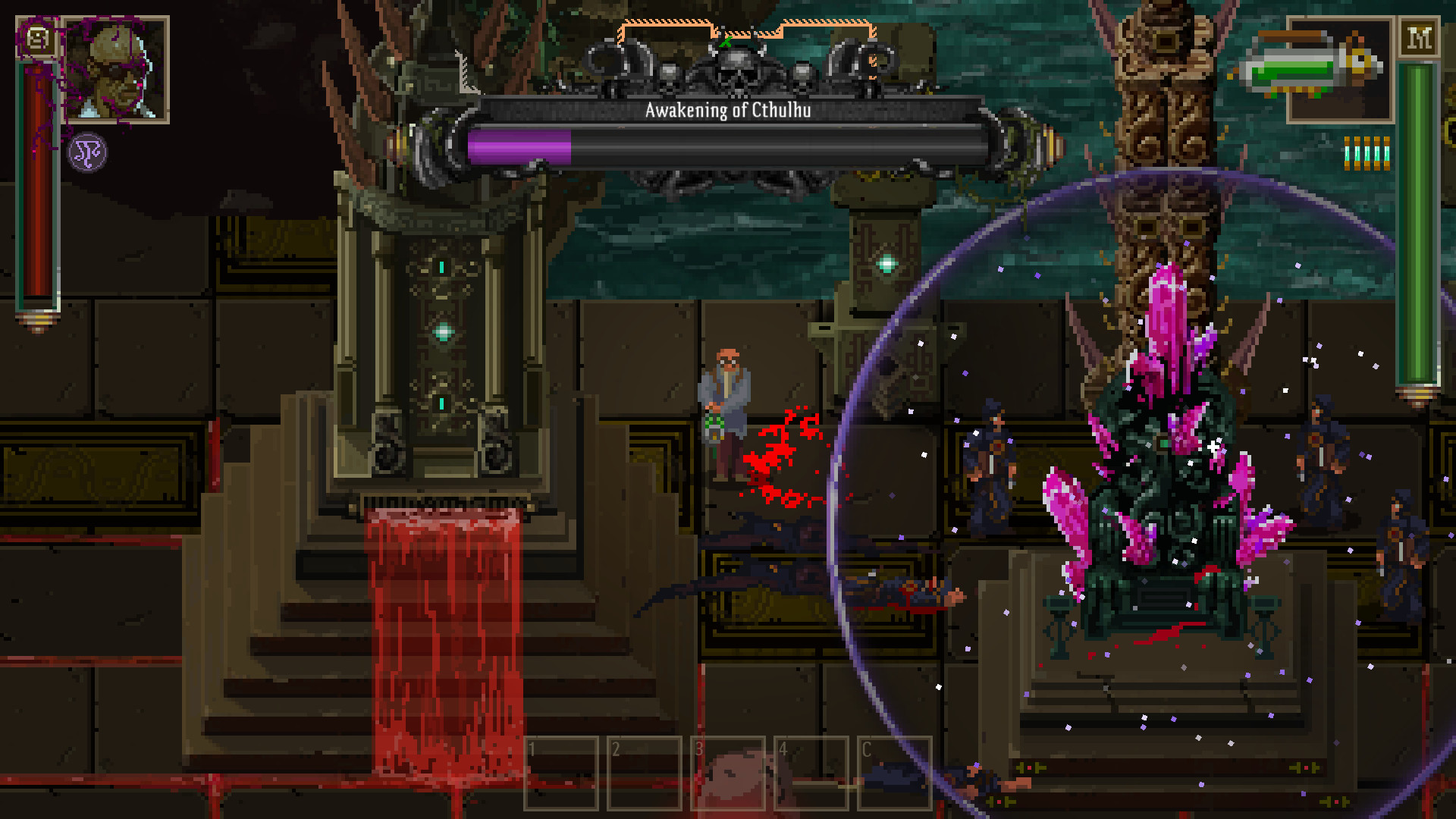 Speaking of universes that I love, this next game is also set in a fictional universe I love! Lovecraft's Untold Stories is an action roguelite in which you must the forces of the Old Ones across a series of different levels. There appears to be quite a bit of replayability with this game as there are five different playable characters all with their own different playstyles. Lovecraft's Untold Stories seems to be one of those games that you can occassionally dip into and I can see it as one of those games I play inbetween the bigger more story heavy games.
Iris and the Giant.
The penultimate game for this month blends RPG and deckbuilding to make an interesting story driven strategy game. In Iris and the Giant, you take onw the role of Iris, a young girl who must face her fears in her imaginary world. As you progress through the game, not only will you unlocck more cards, but also more of Iris' memories, which in turn reveals the truth behind Iris' imaginary adventure. The whole concept of this game sounds really interesting and sort of reminds me a bit of Fran Bow, another game about a young girl's mind, that I absolutely loved which means I'm going to have give Iris and the Giant a try.
Boomerang FU.
And the final game for February is an interesting take on dodgeball and battle royales. In Boomerang FU, you and the other players are all different pieces of food with boomerangs. The aim of the game is to be the last piece of food standing. You do this by using your boomerang and the layout of each level to your advantage. Boomerang FU looks like it would be a great party game to play with friends andone I do want to try out.
And those were the games for February! As I mentioned earlier, there were quite a few games this month that have the option to be played co-operatively, which makes these games ideal to be played in the month of love. Overall, I really liked this bundle- there were a couple of games on my wishlist , as well as many games that I do want to try. What did you think of February's games? Are there any that piqued your interest? Let me know in the comments!
Just as a heads up, Humble Bubndle has changed what day these Humble Choices will be released. Previously, they were released on the first Friday of the month but going forward, they will be released on the first Tuesday. This means that these posts, where I talk about the Humble Choice, will now be posted on Thursday. So, with that being said I hope I see you guys here on the first Tuesday of March. See you then!