And so we've reached the end of the challenge… well, almost! Let's take a look at what I played in the last full week of November.
Sunday 22nd November.
I spent Sunday playing a bit more of Stardew Valley. The amount of grinding I did paid off, as I earnt two more trophies: A Big Help (Complete 40 'Help Wanted' requests) and Monoculture (Ship 300 of one crop). I have to admit that I'm starting to feel burnt out with Stardew Valley, At this point, I don't need to focus on improving my relationships with the townspeople or complete any more of those requests. Instead, I'm trying to catch the harder and rarer fish, which I'm not having much luck with. Everything else, like taking care of the crops and animals, is starting to feel a little repetitive. Still, I know the challenge is almost done, so I just need ot hang on a little longer!
Monday 23rd November.
I'll be honest, I didn't play any games. With Christmas just around the corner, things are getting much busier at work, which meant I came home with no energy for video games.
Tuesday 24th November.
On Tuesday, I played Final Fantasy XIV with my boyfriend. It was another cut scene heavy session which ended with my boyfriend and I about to head into the Antitower, which sounds rather omnious! Hopefully next week, we have completed this dungeon and get a little closer to Stormblood content.
Wednesday 25th November.
Unfortunately, I didn't get to play The Elder Scrolls Online with my friend. Hopefully, next week, we will be able to return to Tamriel together.
Thursday 26th November.
I dabbled a little bit with Fire Emblem: Three Houses on Thursday. Without going into spoilers, the Blue Lions have managed to reunite with an old friend and are about to assault their enemey. OK, that was pretty ambiguous, unfortunately, there is no way for me to talk about where I am in the game without ruining the end of the first half of the game. Still, I'm loving the game and part of me wants to play with the other houses, just to see what their stories are like.
Friday 27th November.
Unfortuantely, Friday was another day where I didn't play any video games. Hopefully over the weekend, I'll be able to make up for some lost time!
Saturday 28th November.
I spent Saturday evening playing Stardew Valley and I finally completed the Community Center! This earnt me the trophy Local Legend. I'll be honest, I'm pretty happy with everything I've achieved in Stardew Valley. I think once the challenge is over, I'll probably put it away for a little while; but since I've a couple of days to go, I'll try and earn the one million gold trophy, as I'm not too far of earning it.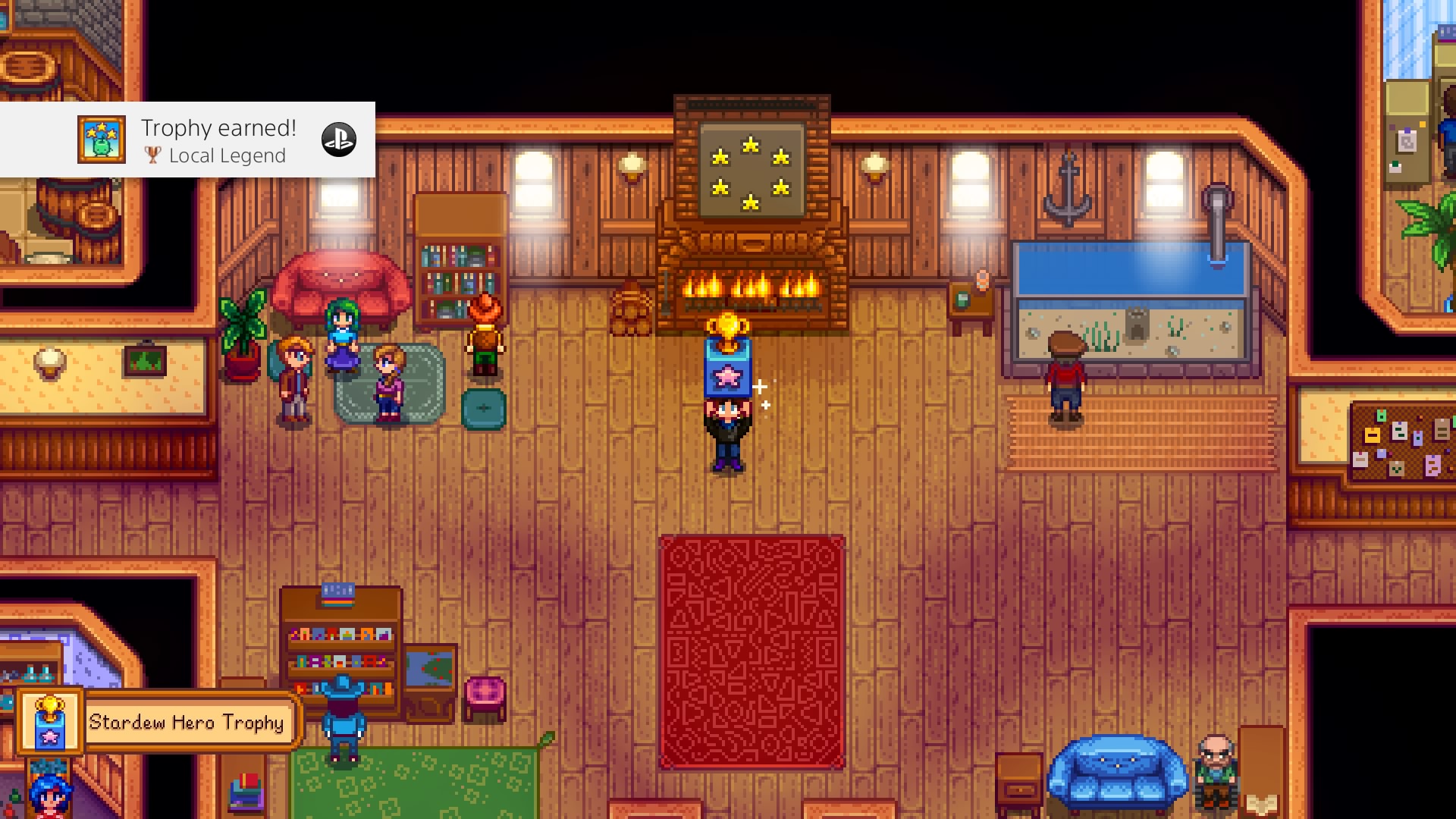 And that was the last full week of the Five Games Challenge! This week was definitely the week I was starting to feel burned out on playing the same games. Still, I do have two more days to go, so come back on Thursday, when I'll be talking about those last two days and about my experience with this challenge over all. See you then!