I've made it through week one of the Five Games Challenge! I was a little concerned that I would struggle with this week, as I had the week off work and England went back into lockdown. I was afraid that I would either get burnt out on gaming or I would get bored of the games I picked. Fortunately, that didn't happen, so let's take a look at how the week panned out!
Sunday 1st November.
OK, I thought this challenge was over before it had begun! Sunday was my birthday and my parents had bought me two games: Collection of Mana for my Switch and Warhammer: Chaosbane for Playstation 4. I was able to resist the urge to get stuck into these games and instead started to play Stardew Valley on my PS$. I was instantly reminded of my love for this game, even though I played it on Steam for over fifty hours. As it was my birthday, I didn't actually spend that much time playing video games, so this was a nice casual start to this month long challenge.
Monday 2nd November.
On Monday, I continued playing Stardew Valley. Over the course of the couple of hours I put into it, I earnt a number of trophies, which were:
Greenhorn (15K)– Earn 15,000g.
Moving Up– Upgrade your house.
Mother Catch– Catch 100 fish.
I have no plans to platinum Stardew Valley, that 'Journey of the Prairie King' mini game is way too hard for me, but instead I just want to enjoy my time with the game.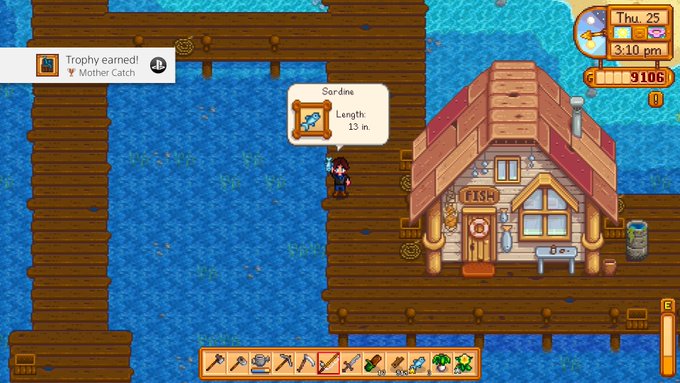 Tuesday 3rd November.
I spend a little time on Stardew Valley by adding a coop and silo to my farm. I also have made some small progress to restoring the community centre. I also started to play Dragon Age: Origins. I didn't get very far- only creating my Dalish Elf rogue and playing through my character's origin story. Since I have several weeks of the challenge to go, I don't want to rush through Dragon Age: Origins,, as I want to keep it for when I'm feeling more burnt out on Stardew Valley. Tuesday is also the day that I play Final Fantasy XIV with my boyfriend. It was pretty cutscene heavy but we have now reached the entrance of the Aetherochemical Research Facility dungeon. My boyfriend said it takes a bit of time to complete and has a lengthy cutscene afterwards, so we decided that would be where we would stop for the day.
Wednesday 4th November.
Its middle of the week and I'm still loving Stardew Valley! I earnt another two trophies:
Cowpoke (50K)– Earn 50,000g.
Ol' Mariner– Catch 24 different fish.
Normally, a friend and I play The Elder Scrolls Online, however they forgot about the Markarth content that was going live this week and so forgot to update their game. This meant we didn't get to do our usual PvP mischief this week. Still, I did log into ESOlater in the evening and play through some of the base game content with my main character. I am currently playing through the second faction storyline with my character and I currently in Deshaan. I know, I have a lot of ESO content to play through, which I hoping to make some headway with during this challenge.
Thursday 5th November.
Thursday was a slow day for gaming, mainly because I was distracted by Truth Seekers on Amzaon Video. I finally managed to get past the summer season in Stardew Valley, which meant I could spend more time exploring the caverns as I was getting more rainy days. I earnt one more tophy- D.I.Y (Craft 15 different items). I also played a little more of ESO, in which I expored more of Deshaan. I completed the Forgotten Crypts dungeon and Lady Llarel's Shelter delve, as well as soloing the Redolent Loam Dolmen.
Friday 6th November.
I spent a few hours playing Stardew Valley but I only earnt one more trophy which was Gofer (Complete 10 'Help Wanted Requests). I'll be honest, I've always struggled with the 'Help Wanted' requests, as I find I don't have the items that people want and the two day time limit to complete these requests is too short. So, somehow managing to complete ten of these requests is an actual achievement for me! I also played a little bit of ESO, solving some problems that occurred at the magical academy, Shad Astula and sorting out a Malbourn problem in the Mournhold sewers. I also completed the Falkreath Hold dungeon for the first time. I getthe impression that it was the first run for all the players in my party, as it was a… challenge experience, with a tank that didn't want to tank and a healer with no healing spells. Still, with perseverance, we did manage to complete the dungeon.
Saturday 7th November.
Like with Thursday, I didn't do that much gaming, mainly because I was trying to create my profile on Grouvee and adding my physical video game collection to it. If you use Grouvee to keep track of your video game collection, feel free to come and say hi to me! I did manage to play Stardew Valley for a little while. I ahve finally reached my first winter, in the game, which means I can spend a little bit of time upgraded my tool and hopefully finish exploring the caves. I think in the next few days, I will be focussing in improving my relationships with the townspeople.
And that was the end of the first week of the Five Games Challenge! I was pleasantly surprised at how little I was tempted to play other games. Just goes to show I can focus when I put my mind to it! Still, there are another twenty three days to go, so this could all change. I recommend that you check out Naithin's daily posts on Time to Loot, to see how he's getting on with the challenge.
Come back next Monday, when I'll be updating you on the second week of this challenge. See you soon!