Since I shared, my not-so wonderful, trip down memory lane with the Power Rangers; I thought I'd share some more memories with my top five books from childhood! So without further ado…
The Lion, The Witch And The Wardrobe by C.S. Lewis.
 I remember this book was read to my class when I was about seven years old and it was  probably the first fantasy novel I can remember. It's about four siblings who discover the magical land of Narnia in the back of a wardrobe and the fight for the world between good and evil. Although I've read all seven books in The Chronicles of Narnia in series, this is my favourite because it was the first one I read.
Fantastic Mr. Fox by Roald Dahl.
I've read quite a few of Roald Dahl's books including Charlie and the Chocolate Factory, The BFG and George's Marvellous Medicine but Fantastic Mr. Fox sticks in my mind, probably because it has an animal outwitting some humans (who wouldn't enjoy that?). Even now, I love Roald Dahl's way with description and wordplay.
The Wonderful Wizard Of Oz by L. Frank Baum.
This is another classic I enjoyed reading but one I didn't really appreciate until I was older   and re-read it. This is one of those novels that has many layers to it and, depending on how much you want to read into it, has some interesting allusions to nineteenth century America. Like The Chronicles of Narnia, The Wonderful Wizard of Oz has inspired other fantasy novels. And let's face it, you can't go wrong with a book about a girl who goes against a witch with the help of a little dog, a scarecrow, a lion and  a man made of tin.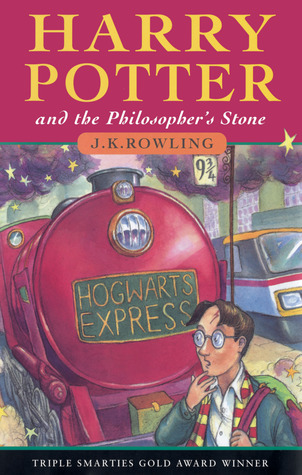 Harry Potter And The Philosopher's Stone by J.K. Rowling.
 This was probably not a surprise, especially since my childhood was mostly in the 90s. If I'm being honest, the Harry Potter series (particularly the earlier books) was probably   responsible for revitalising my interest in the fantasy genre as I was entering my teenage   years. In case you haven't read the books or seen the films (or haven't been on the Internet   in recent years…); it's about a young boy who discovers he is a wizard and goes off to a  magical school.
The Cat In The Hat by Dr. Seuss. 
Let's finish off this list with a nonsensical book about, well, a cat in a hat. The thing I love   about this book is that it was written because Dr. Seuss didn't like the books that were used in schools to teach children how to read and wanted to write something that would     entertain children. Well, I can safely say he succeeded.
So that's it, my five favourite books from my childhood (that I can remember…). I would like to point out that you don't have to be a child to read and enjoy these books. So why not pick up your childhood favourite book and lose yourself in some nostalgia…
All book cover images were taken from www.goodreads.com . Thero does not own any of the images used in this post.